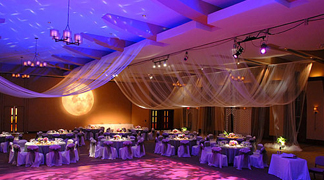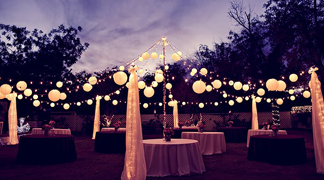 Lighting & Décor is a delicate blend of aesthetic and technical creation that can literally be used to create an infinite number of dramatic effects. By using effective tools of varying color, intensity, shape, size, texture and contrast, these can be used to evoke a full range of moods, and emotions, from calm to excited, joy, to utter exhilaration. Frankly, no other medium exists that can establish mood more effectively than well done lighting and décor. In the end, effective lighting completes a full circle of both the emotion and performance action in any production, wedding or event, to accent words, music and movement.
In order to create an effective wedding lighting and décor design, it's critical to understand the basic functionality of lighting and décor, and the qualities of light. Next, we need to understand what you want to create, or say, with lighting; present the visual messages you want to present; then determine how this design can be executed.
A brief overview of the FUNCTIONS of lighting: visibility, reinforcement, composition and mood.
Visibility is the full range of seeing, and generally the primary function of light (although what is not visible is just as important).
Reinforcement is giving the reason to a scene, performance or event. Whether you desire it to be realistic or abstract, the lighting must justify, and support it.
Composition is defining objects or areas of the room in relation to their importance to the room. The center of action should be the focus of the lighting – like a cake spot.
Mood is the feeling or tone conveyed within a room, or key event. For example, a dark setting enhanced with blues and violets can create a sense of mystery, yet the opposite with bright colors or orange and yellow for cheer, or "champagne" for romance.
Your wedding, whether you realize it or not, will bring your guests on an emotional journey, from joy, surprise, friendship, laughter, love and hope. Your lighting and décor (working in tandem with music) should compliment these emotions to produce a one-of-a-kind wedding celebration.
Monogram Projection
C'Est La Vie believes Monogram lighting is by far one of the most cost-effective and elegant ways to create a unique and inviting entertaining atmosphere out of a traditionally simple reception and dance room. Monogram lighting can be an excellent way to pull together all of the design elements of your wedding. Our monogram light and design creates a high impact focal point to the room providing the perfect backdrop showing off all the beautiful work you've put into the cake, flowers and decor.
Projector Service
Would you like to share more with the guests on your wedding day? Share the memories of your childhood, how you met, and the life you have built together with our Projector Service Package.
Our package will include set up, tear down, projector, projector screen, audio support, and a DVD player. On your wedding day your DJ will set up your projector system and give you full support during your slideshow. C'Est La Vie Events & Entertainment has a top of the line projector system ensuring you have the best and most reliable service!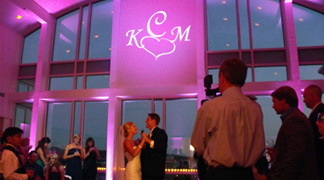 wedding uplighting in madison, wedding uplighting in chicago, wedding uplighting in milwaukee, madison uplighting, uplighting firms in madison