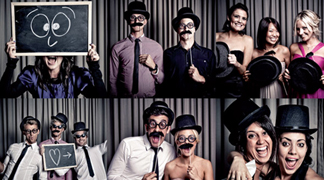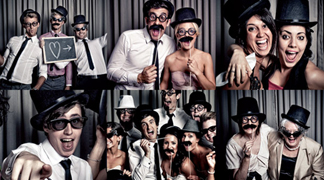 C'Est La Vie Photo Booth can provide a unique Madison wedding photo booth guaranteed to make your wedding unforgettable, and specifically designed to unite your guests with fun, hilarious moments. Want the super fun wedding your guests will be talking about for years? Something cool for all your guests to enjoy? The C'Est La Vie Photo Booth is the perfect addition!
We operate the best quality photo booth with the fastest print times (photo lab quality prints ready in 6 seconds) and the highest level of service in the area! Add in cutting edge features, like our C'Est La Vie Share kiosk that can enable guests to email their photos and post to Facebook and Twitter right at the wedding, a green screen option, and if you want, a large external monitor to run a slideshow of photos taken at your wedding. Talk about fun!
How does it all work?
It's really simple actually. Once in the photo booth, your guests will see themselves on the video screen. When ready, they simply push the large "start" button and the countdown begins. The photo booth will take a picture every 5 seconds. Once the photos have been taken and your guests exit, they simply pick up their printed photo.
Each photo image prints in just 6 seconds and is known as "archival quality." We don't use cheap inkjet printers with a sub-par product that makes photos scratch and smear.
The C'Est La Vie Photo Booth comes with a large LCD screen on the outside that display all the pictures taken at your wedding. This allows your guests around the booth to enjoy humorous moments while waiting.
Compare this experience to others that use flimsy tent like drape or plastic structures, web cameras that produce blurry or dull pictures, and slow ink-jet printers where the prints are easily smeared, and tend to fade just months later.
We make weddings fun!  We make weddings memorable!